With more people working from home, a functional, beautiful bathroom is at the top of the priority list for many homeowners.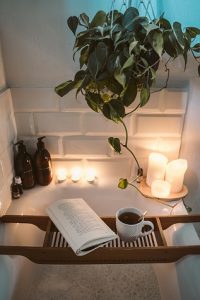 1. Outside – In – This year is all about connecting with nature and creating spa-like sanctuaries. After all, your bathroom should be a place to retreat, relax and find time for yourself.
2. Luxurious Cleansing – There are extensive ranges of luxurious showers and heads allowing the creation of an indulgent shower experience in your own home. Connection between water and wellbeing has never been easier with waterfall shower heads and walk-in showers.
3. Cocoon Room – Cocooning is a mood that can be created with simple moments that make us pause, such as the ritual of lighting a scented candle or wrapping ourselves in a warm robe. The Cocoon room bathroom trend focuses on creating a warm, safe, tranquil place that indulges your every need.
Are you enjoying this type of content??
Like this post and follow us for more tips @NestProperties_Austin !